SB3 Trinity is our Flagship coating. Named after its 3 layer process, Trinity is only installed by those who take an additional day of training. Trinity is only available in select markets.

Trinity blends a 3 part coating process. Each layer offering a unique feature that when combined, it the hardest, most durable coating we have to offer. Seven years of durability is to be expected with Trinity. The gloss is mindblowing with Trinty. If you're looking for the best SB3 offers, Trinity is it.

Trinity is backed by our 3rd party warranty and is also covered by carfax.
SB3 Alpha is our most popular coating with thousands of cars coated each year with it. Alpha was 1 of 3 original coatings in the SB3 range of coatings.

Alpha is a single layer application. This layer offers 5 years of protection while leaving a great layer of gloss and slickness. Alpha is a great coating for daily drivers or someone looking for long term protection. It allows for nice ease of maintenance and great protection.

Alpha is backed by our 3rd party warranty and is also covered by carfax.
SB3 Omega is also 1 of the original 3 coatings offered by SB3. This coating is very popular as an entry coating amongst our customers.

SB3 Omega is known for its extremely high gloss and water beading. This single layer application makes your ease of maintenance simple. The hydrophobics of this coating really create a lotus effect. It has been said this coating leaves a jolly rancher appearance to the vehicle's paint. Super deep and glossy.

Omega is backed by our 3rd party warranty and is also covered by carfax.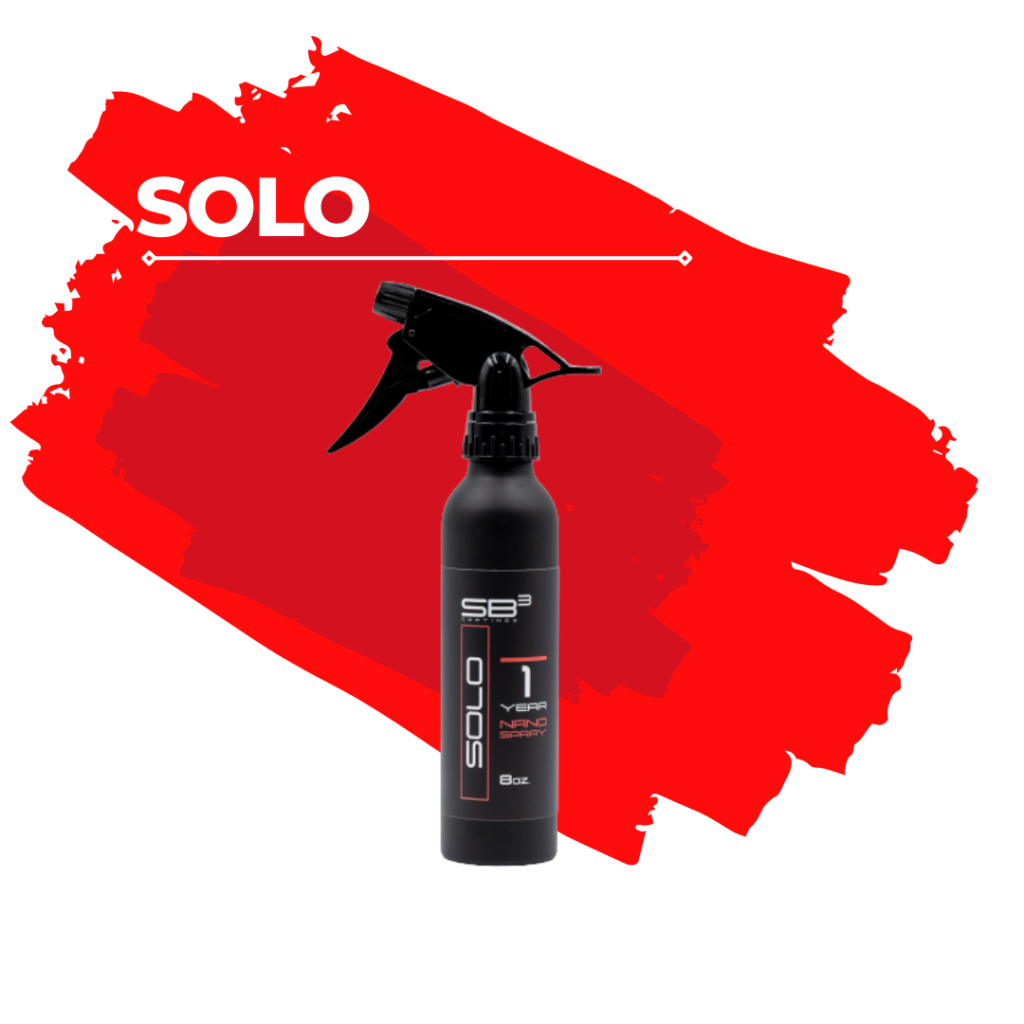 As with all of our professionally installed coatings, Solo is very popular amongst our Surface Specialists.

Solo Delivers amazing gloss and incredible water beading. It can be used on Paint, Glass, and wheels. Virtually any surface on the exterior of a vehicle. Its a stand-alone, one-year coating, yet works well as a topper for any of our coatings.
Solo is a great entry-level addition for protection.
Protecting your wheels is one of the best investments for today's modern cars. Learn more about our professional installed Ceramic Wheel Coating.
Vortex is one of those products you truly have to see to believe. Once applied you'll never want to drive a car without it on your wheels.

Vortex is designed to protect your wheel and calipers from harsh brake dust and everyday wear and tear to your wheels. Once applied Vortex will keep your wheels cleaner longer, and clean up is a breeze. Say goodbye to dedicated wheels cleaners. Often a good soap will clean your wheels easily.

Vortex has a durability rating of 2 years.
Increased vision means increased safety. SB3 Coatings Optic windshield provides long term protection and increased safety.
Introducing Optic Coating by SB3 Coatings. Optic Coating is a glass coating designed for windshields. This proprietary formula promotes extreme durability with unsurpassed hydrophobic self cleaning capabilities. Optic greatly enhances visibility for windshield during rainy times. Optic Coating will makes windshield cleaning a lot easier. It will also make removing bugs faster.

Windshield, Mirrors, Glass Surfaces Extreme Hydrophobic Properties Easier to Clean and Maintain. Clear Visibility 1 Year Warranty Exclusive Installers Only
People spend 90 percent of their time with a cars interior. SB3 Coatings has the perfect solution for all your protection needs.
Protecting the inside of your interior is a great way to make spills and stains clean up easily and fast.

Hyde from Sb3 Coatings is a premier interior protectant. Hyde is professionally installed by a Surface Specialist. It works well on all leather and leaves a nice soft supple feel. It will not leave the leather hard and is built to flex.

The protective properties of Hyde will last one year.
Fiber is the ultimate fabric protection for all interior surfaces.

SB3 Fiber was created for those demanding the best protection when it comes to their interior auto fabric. Fiber creates a unique layer of protection that bonds to carpets, floor mats, and Alcantara. Spills wipe right up, and won't settle in. This truly is a soccer mom's dream come true.

The protection from Fiber will last one year.
Got a question or interested in the sb3 range?