Window Tinting in Paisley
Our window tinting kits come in 5 different levels of darkness to suit every requirement. The higher the number the more light is let through.Window tinting refers to the process of applying a thin laminate film to a vehicle's glass in order to darken it. The reasons people choose to tint the windows of an automobile vary. These might include privacy or security; protection from UV rays including UVA, the ones responsible for causing skin cancer; and reducing solar gain (interior heat) and thus incrementally improving fuel economy; and cutting down on glare from the sun.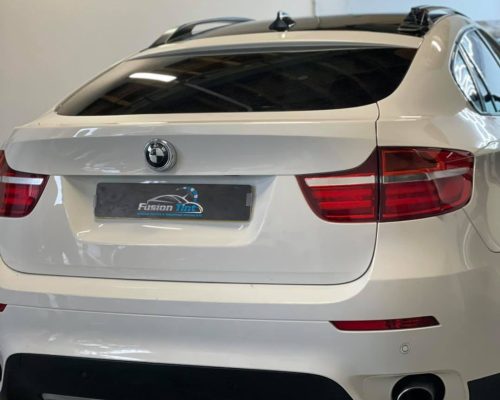 /01

Improve the appearance
Tinting your car windows is a low-cost way of dramatically improving the appearance of your car. With a range of different tint shades available, you can choose the ones to match your preferred style.
Increased security
/02

Increased security
A dark tint applied to your window will stop snooping eyes from seeing what's inside your car and reduce the risk of a break in. The film will also help hold the glass together in the event of someone breaking your window, increasing the time for them to gain entry.
/03

Avoid overheating
On a sunny day, the inside of your car can become an oven. Window tint will help reduce the temperature inside your car up to 60%.
/04

Protect your skin
Harmful UV rays from the sun can damage your skin and cause cancer, and can be especially dangerous for children. Window tint blocks over 99% of these harmful rays.
/05

Prevent cracking and fading
UV rays will also cause your interior to fade and crack over time. Fitting window tint will help to prevent this and keep your interior looking like new.
/06

reduce fuel consumption
Reduce fuel consumption. Since window tints keep your vehicle's interior cooler, you're less likely to crank up the air conditioner. This reduces the amount of fuel you use, saving you money.
/07

Keep your interior from fading
Keep your interior from fading. The best-quality window tint will prevent the hot sun from penetrating the glass and fading your front and back seats, dashboard, and other interior areas.
/08

The Law
Certain laws apply to the front windows and windscreen when tinting your car. No laws apply to tint fitted on the rear windows and rear windscreen.
​
The Road Vehicles (Construction & Use) Regulations 1986 specify the minimum levels of light that must pass through the windscreen and front side windows.
The limits are as follows -
​
Motor Vehicles first used before 1 April 1985:
The windscreen and front side windows must allow at least 70% of light to be transmitted through them.
​
Motor Vehicles first used on or after 1 April 1985:
The light transmitted through the windscreen must be at least 75%.The front side windows must allow at least 70% of light to be transmitted through them.
​
Please download the VOSA Guide to tinted windows for more information.
Looking to Get Your Windows Tinted
If you need more information please contact us to discuss your options we will respond within 24 hours. Or give us a call on: 0141 374 0366